David Esquibel was a Nuckelavee that appeared in "Quill" and "The Good Shepherd". He was sent by the Royal Family in Vienna to get Nick's key.
Appearances
Edit
Captain Renard receives a call from his confidant warning him that a Nuckelavee is on the way to Portland from Rome via JFK to get the key. Renard then assigns an Franco to find out who this person is.
Franco reports back that three people were traveling from Rome using the specified itinerary, two are accounted for but one is missing. He also reports that a cab and its driver went missing 30 minutes after the plane landed and have not been heard from since. He puts an APB out on the cab. Captain Renard warns Nick and Hank about a fugitive in town who has an issue with cops. The only description he has is that the person is a Caucasian male.
David is watching the Medical Examiner's Office and when Nick and Hank leave, he follows them in his stolen cab after he woges.
David is watching when Nick and Hank leave the Stanton residence on the way to the park.
David is on the roof of the Spice Shop watching through the roof window while Nick, Hank, and Monroe cure Rosalee and Ryan Gilko of Fluvus Pestilentia.
The Nuckelavee enters the bar where Bud is telling Nick about his meeting with Juliette. ("Quill") Nick senses something but David has moved out of sight.
Captain Renard receives a call from his French contact, telling him that he has found the identity of the Nuckelavee and has sent the file. The file contains David's name, alias and picture.
The Nuckelavee breaks into Nick and Juliette's house, and rummages through the drawers to look for Nick's key, using a rough paper sketch he has as a reference. Juliette comes home halfway through his search and he is forced to slip back out of the house.
Later, the Nuckelavee attacks Nick while he is leaving the trailer after studying Seelenguter. After a brief struggle outside and inside the trailer, Nick eventually manages to get a sledgehammer from the weapon cabinet and kills the Nuckelavee, but not until Nick has suffered some close escapes. He finds the picture of his key in the dead Nuckelavee's jacket and displays a grim smile. The next day, Wu reports that his body was found floating down the river, and it looked like someone had attacked him with a hammer.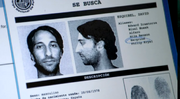 Edward Trastorsa
Rizal Hosek
Alfaro
Nila Benson
Hargrund
Philip Kryal
He may be a Reaper, as he was hired by the Verrat to follow up on Marnassier's unfinished business in acquiring the key, and he has a possible moniker (Hargrund) like all Reapers.
He does not speak in the two episodes that he appears in.
According to Esquibel's Interpol file:

His height is 1.88m (6.1 feet).
He was born in August 28,1978 in Madrid, Spain.
His weight is 75kg (165.35 lbs).
He spoke three languages: Spanish, English and French.