For the people, see Grimm.
Grimm is a television show inspired by Grimms' Fairy Tales that airs on NBC. It is filmed and set in Portland, Oregon. The show was created by Stephen Carpenter, David Greenwalt, and Jim Kouf. Greenwalt and Kouf are 2 of the 5 executive producers along with Sean Hayes, Todd Milliner, and Norberto Barba. The show premiered on October 28, 2011 on NBC. Each episode begins with an imposed excerpt usually referencing the theme of the episode.
Season 1 began filming with the "Pilot" in March 2011, while the rest of the season continued filming in July 2011. Season 1 aired from October 28, 2011 until May 18, 2012 and the season 1 DVD and Blu-ray sets were released on August 7, 2012.
Season 2 began filming on May 30, 2012 and aired from August 13, 2012 until May 21, 2013. The season 2 DVD and Blu-ray sets were released on September 17, 2013.
Season 3 began filming on July 15, 2013 and aired from October 25, 2013 until May 16, 2014. The season 3 DVD and Blu-ray sets were released on September 16, 2014.
Season 4 began filming on July 16, 2014 and aired from October 24, 2014 until May 15, 2015. The season 4 DVD and Blu-ray sets were released on September 29, 2015.
Season 5 began filming on July 7, 2015 and aired from October 30, 2015 until May 20, 2016. The season 5 DVD and Blu-ray sets were released on September 27, 2016.
Season 6 began filming on August 1, 2016 and aired from January 6, 2017 until March 31, 2017. The season 6 DVD and Blu-ray sets will be released on June 13, 2017.
The Original Idea for Grimm
In 2006, Todd Milliner came up with the general idea for the show while taking a shower. He had the idea of "What can I do for a show that's in the public domain?" He wanted to do a modern retelling of the Brothers Grimm. Hazy Mills (the production company shared by Milliner and Sean Hayes) met with David Greenwalt before NBC was on board and suggested that the show should be a crime drama with a supernatural twist. Greenwalt liked the idea and soon called Jim Kouf to get his help with the show.[1]
Cast/Characters
Main cast listed in order they are credited. After that the list goes by number of appearances.
Crew
Executive Producers
Writers
Directors
Episodes
Season No.
Series No.
Title
Written by
Directed by
Air date
U.S. Viewers
(millions)
1
1
"Pilot"
Teleplay by:
David Greenwalt & Jim Kouf
Story by:
David Greenwalt & Jim Kouf
and Stephen Carpenter
Marc Buckland
October 28, 2011
6.56
2
2
"Bears Will Be Bears"
David Greenwalt & Jim Kouf
Norberto Barba
November 4, 2011
6.01
3
3
"Beeware"
Cameron Litvack &
Thania St. John
Darnell Martin
November 11, 2011
5.18
4
4
"Lonelyhearts"
Alan DiFiore & Dan E. Fesman
Michael Waxman
November 18, 2011
5.44
5
5
"Danse Macabre"
Jim Kouf & David Greenwalt
David Solomon
December 8, 2011
4.09
6
6
"The Three Bad Wolves"
Naren Shankar &
Sarah Goldfinger
Clark Mathis
December 9, 2011
5.43
7
7
"Let Your Hair Down"
Naren Shankar &
Sarah Goldfinger
Holly Dale
December 16, 2011
5.16
8
8
"Game Ogre"
Cameron Litvack &
Thania St. John
Terrence O'Hara
January 13, 2012
4.65
9
9
"Of Mouse and Man"
Alan DiFiore & Dan E. Fesman
Omar Madha
January 20, 2012
5.92
10
10
"Organ Grinder"
Akela Cooper & Spiro Skentzos
Clark Mathis
February 3, 2012
4.79
11
11
"Tarantella"
Alan DiFiore & Dan E. Fesman
Peter Werner
February 10, 2012
5.30
12
12
"Last Grimm Standing"
Teleplay by:
Naren Shankar &
Sarah Goldfinger
Story by:
Cameron Litvack &
Thania St. John
Michael Watkins
February 24, 2012
4.79
13
13
"Three Coins in a Fuchsbau"
David Greenwalt & Jim Kouf
Norberto Barba
March 2, 2012
5.30
14
14
"Plumed Serpent"
Alan DiFiore & Dan E. Fesman
Steven DePaul
March 9, 2012
5.05
15
15
"Island of Dreams"
David Greenwalt & Jim Kouf
Rob Bailey
March 30, 2012
4.15
16
16
"The Thing with Feathers"
Richard Hatem
Darnell Martin
April 6, 2012
4.45
17
17
"Love Sick"
Catherine Butterfield
David Solomon
April 13, 2012
4.96
18
18
"Cat and Mouse"
Jose Molina
Felix Alcala
April 20, 2012
4.56
19
19
"Leave It to Beavers"
Nevin Densham
Holly Dale
April 27, 2012
4.33
20
20
"Happily Ever Aftermath"
David Greenwalt & Jim Kouf
Terrence O'Hara
May 4, 2012
4.73
21
21
"Big Feet"
Teleplay by:
Richard Hatem
Story by:
Alan DiFiore &
Dan E. Fesman
Omar Madha
May 11, 2012
4.45
22
22
"Woman in Black"
David Greenwalt & Jim Kouf
Norberto Barba
May 18, 2012
5.10
1
23
"Bad Teeth"
Jim Kouf & David Greenwalt
Norberto Barba
August 13, 2012
5.64
2
24
"The Kiss"
Jim Kouf & David Greenwalt
Terrence O'Hara
August 20, 2012
4.90
3
25
"Bad Moon Rising"
Richard Hatem
David Solomon
August 27, 2012
4.67
4
26
"Quill"
David Simkins
David Straiton
September 3, 2012
4.62
5
27
"The Good Shepherd"
Dan E. Fesman
Steven DePaul
September 28, 2012
5.32
6
28
"Over My Dead Body"
Spiro Skentzos
Rob Bailey
October 5, 2012
5.29
7
29
"The Bottle Imp"
Alan DiFiore
Darnell Martin
October 12, 2012
5.01
8
30
"The Other Side"
William Bigelow
Eric Laneuville
October 19, 2012
5.03
9
31
"La Llorona"
Akela Cooper
Holly Dale
October 26, 2012
6.11
10
32
"The Hour of Death"
Sean Calder
Peter Werner
November 2, 2012
5.64
11
33
"To Protect and Serve Man"
Dan E. Fesman
Omar Madha
November 9, 2012
5.21
12
34
"Season of the Hexenbiest"
Teleplay by:
David Greenwalt
& Jim Kouf
Story by:
Jim Kouf
Karen Gaviola
November 16, 2012
5.03
13
35
"Face Off"
Jim Kouf & David Greenwalt
Terrence O'Hara
March 8, 2013
4.90
14
36
"Natural Born Wesen"
Thomas Ian Griffith &
Mary Page Keller
Michael Watkins
March 15, 2013
4.91
15
37
"Mr. Sandman"
Alan DiFiore
Norberto Barba
March 22, 2013
5.00
16
38
"Nameless"
Akela Cooper
Charles Haid
March 29, 2013
4.86
17
39
"One Angry Fuchsbau"
Richard Hatem
Terrence O'Hara
April 5, 2013
5.13
18
40
"Volcanalis"
Jim Kouf & David Greenwalt
David Grossman
April 19, 2013 (Canada)
April 26, 2013
(United States)
4.85
19
41
"Endangered"
Spiro Skentzos
David Straiton
April 30, 2013
5.77
20
42
"Kiss of the Muse"
Sean Calder
Tawnia McKiernan
May 7, 2013
5.67
21
43
"The Waking Dead"
Jim Kouf & David Greenwalt
Steven DePaul
May 14, 2013
5.36
22
44
"Goodnight, Sweet Grimm"
Jim Kouf & David Greenwalt
Norberto Barba
May 21, 2013
4.99
1
45
"The Ungrateful Dead"
Jim Kouf & David Greenwalt
Norberto Barba
October 25, 2013
6.15
2
46
"PTZD"
Jim Kouf & David Greenwalt
Eric Laneuville
November 1, 2013
4.96
3
47
"A Dish Best Served Cold"
Rob Wright
Karen Gaviola
November 8, 2013
4.88
4
48
"One Night Stand"
Sean Calder
Steven DePaul
November 15, 2013
5.81
5
49
"El Cucuy"
Michael Golamco
John Behring
November 29, 2013
5.73
6
50
"Stories We Tell Our Young"
Michael Duggan
Aaron Lipstadt
December 6, 2013
6.32
7
51
"Cold Blooded"
Thomas Ian Griffith
Terrence O'Hara
December 13, 2013
4.88
8
52
"Twelve Days of Krampus"
Dan E. Fesman
Tawnia McKiernan
December 13, 2013
4.88
9
53
"Red Menace"
Alan DiFiore
Allan Kroeker
January 3, 2014
5.68
10
54
"Eyes of the Beholder"
Thomas Ian Griffith
Peter Werner
January 10, 2014
5.33
11
55
"The Good Soldier"
Rob Wright
Rashaad Ernesto Green
January 17, 2014
5.71
12
56
"The Wild Hunt"
Jim Kouf & David Greenwalt
Rob Bailey
January 24, 2014
5.88
13
57
"Revelation"
Jim Kouf & David Greenwalt
Terrence O'Hara
February 28, 2014
5.32
14
58
"Mommy Dearest"
Brenna Kouf
Norberto Barba
March 7, 2014
5.65
15
59
"Once We Were Gods"
Alan DiFiore
Steven DePaul
March 14, 2014
5.63
16
60
"The Show Must Go On"
Marc Gaffen & Kyle McVey
Paul A. Kaufman
March 21, 2014
5.71
17
61
"Synchronicity"
Teleplay by:
Michael Golamco
Story by:
Michael Duggan &
Michael Golamco
David Solomon
April 4, 2014
4.89
18
62
"The Law of Sacrifice"
Teleplay by:
Michael Duggan
Story by:
Michael Duggan &
Michael Golamco
Terrence O'Hara
April 11, 2014
4.73
19
63
"Nobody Knows the Trubel I've Seen"
Jim Kouf & David Greenwalt
Norberto Barba
April 25, 2014
4.39
20
64
"My Fair Wesen"
Teleplay by:
Sean Calder
Story by:
Thomas Ian Griffith &
Rob Wright
Clark Mathis
May 2, 2014
4.93
21
65
"The Inheritance"
Dan E. Fesman
Eric Laneuville
May 9, 2014
4.78
22
66
"Blond Ambition"
Jim Kouf & David Greenwalt
Norberto Barba
May 16, 2014
5.34
1
67
"Thanks for the Memories"
Jim Kouf & David Greenwalt
Norberto Barba
October 24, 2014
5.28
2
68
"Octopus Head"
Jim Kouf & David Greenwalt
Terrence O'Hara
October 31, 2014
4.54
3
69
"The Last Fight"
Thomas Ian Griffith
Paul A. Kaufman
November 7, 2014
4.93
4
70
"Dyin' on a Prayer"
Sean Calder
Tawnia McKiernan
November 14, 2014
5.01
5
71
"Cry Luison"
Michael Golamco
Eric Laneuville
November 21, 2014
5.43
6
72
"Highway of Tears"
Alan DiFiore
John Behring
November 28, 2014
5.17
7
73
"The Grimm Who Stole Christmas"
Dan E. Fesman
John Gray
December 5, 2014
4.96
8
74
"Chupacabra"
Brenna Kouf
Aaron Lipstadt
December 12, 2014
5.07
9
75
"Wesenrein"
Thomas Ian Griffith
Hanelle Culpepper
January 16, 2015
4.62
10
76
"Tribunal"
Jim Kouf & David Greenwalt
Peter Werner
January 23, 2015
5.02
11
77
"Death Do Us Part"
Jeff Miller
Constantine Makris
January 30, 2015
4.85
12
78
"Maréchaussée"
Jim Kouf & David Greenwalt
Eric Laneuville
February 6, 2015
4.67
13
79
"Trial by Fire"
Sean Calder
Norberto Barba
February 13, 2015
4.86
14
80
"Bad Luck"
Thomas Ian Griffith
Terrence O'Hara
March 20, 2015
4.78
15
81
"Double Date"
Brenna Kouf
Karen Gaviola
March 27, 2015
4.93
16
82
"Heartbreaker"
Dan E. Fesman
Rob Bailey
April 3, 2015
4.51
17
83
"Hibernaculum"
Michael Golamco
John Behring
April 10, 2015
4.76
18
84
"Mishipeshu"
Alan DiFiore
Omar Madha
April 17, 2015
4.54
19
85
"Iron Hans"
Jim Kouf & David Greenwalt
Batán Silva
April 24, 2015
4.66
20
86
"You Don't Know Jack"
Sean Calder & Michael Golamco
Terrence O'Hara
May 1, 2015
4.22
21
87
"Headache"
Jim Kouf & David Greenwalt
Jim Kouf
May 8, 2015
4.21
22
88
"Cry Havoc"
Thomas Ian Griffith
Norberto Barba
May 15, 2015
4.74
1
89
"The Grimm Identity"
Jim Kouf & David Greenwalt
Eric Laneuville
October 30, 2015
4.04
2
90
"Clear and Wesen Danger"
Thomas Ian Griffith
Norberto Barba
November 6, 2015
3.78
3
91
"Lost Boys"
Sean Calder
Aaron Lipstadt
November 13, 2015
3.66
4
92
"Maiden Quest"
Brenna Kouf
Hanelle Culpepper
November 20, 2015
3.62
5
93
"The Rat King"
Jeff Miller
David Solomon
December 4, 2015
3.69
6
94
"Wesen Nacht"
Jim Kouf & David Greenwalt
Darnell Martin
December 11, 2015
3.64
7
95
"Eve of Destruction"
Thomas Ian Griffith
John Behring
January 29, 2016
3.81
8
96
"A Reptile Dysfunction"
Michael Golamco
David Straiton
February 5, 2016
4.42
9
97
"Star-Crossed"
Sean Calder
Carlos Avila
February 12, 2016
4.19
10
98
"Map of the Seven Knights"
Jim Kouf
Aaron Lipstadt
February 19, 2016
4.04
11
99
"Key Move"
Thomas Ian Griffith
Eric Laneuville
March 4, 2016
4.26
12
100
"Into the Schwarzwald"
Jim Kouf & David Greenwalt
Norberto Barba
March 11, 2016
3.91
13
101
"Silence of the Slams"
Brenna Kouf
David Straiton
March 18, 2016
4.20
14
102
"Lycanthropia"
Jeff Miller
Lee Rose
March 25, 2015
4.32
15
103
"Skin Deep"
Michael Golamco
Karen Gaviola
April 1, 2016
4.05
16
104
"The Believer"
Jim Kouf & David Greenwalt
John Behring
April 8, 2016
4.25
17
105
"Inugami"
Kyle McVey
Sharat Raju
April 15, 2016
3.75
18
106
"Good to the Bone"
Martin Weiss
Peter Werner
April 22, 2016
3.89
19
107
"The Taming of the Wu"
Brenna Kouf
Terrence O'Hara
April 29, 2016
3.76
20
108
"Bad Night"
Sean Calder
Norberto Barba
May 13, 2016
3.39
21
109
"Set Up"
Jim Kouf & David Greenwalt
David Greenwalt
May 20, 2016
4.03
22
110
"The Beginning of the End"
Thomas Ian Griffith
Norberto Barba
May 20, 2016
4.03
1
111
"Fugitive"
Jim Kouf & David Greenwalt
Aaron Lipstadt
January 6, 2017
4.49
2
112
"Trust Me Knot"
Jim Kouf & David Greenwalt
John Gray
January 13, 2017
4.24
3
113
"Oh Captain, My Captain"
Thomas Ian Griffith
David Giuntoli
January 20, 2017
4.29
4
114
"El Cuegle"
Brenna Kouf
Carlos Avila
January 27, 2017
4.28
5
115
"The Seven Year Itch"
Jeff Miller
Lee Rose
February 3, 2017
4.08
6
116
"Breakfast in Bed"
Kyle McVey
Julie Herlocker
February 10, 2017
4.00
7
117
"Blind Love"
Sean Calder
Aaron Lipstadt
February 17, 2017
3.92
8
118
"The Son Also Rises"
Todd Milliner & Nick Peet
Peter Werner
February 24, 2017
4.01
9
119
"Tree People"
Brenna Kouf
Jim Kouf
March 3, 2017
4.23
10
120
"Blood Magic"
Thomas Ian Griffith
Janice Cooke
March 10, 2017
3.95
11
121
"Where the Wild Things Were"
Brenna Kouf
Terrence O'Hara
March 17, 2017
3.96
12
122
"Zerstörer Shrugged"
Teleplay by:
Brenna Kouf
Story by:
Jim Kouf & David Greenwalt
Aaron Lipstadt
March 24, 2017
4.14
13
123
"The End"
Jim Kouf & David Greenwalt
David Greenwalt
March 31, 2017
4.33
Webisodes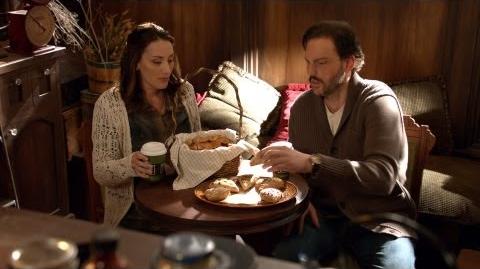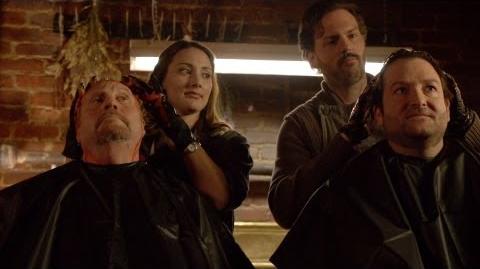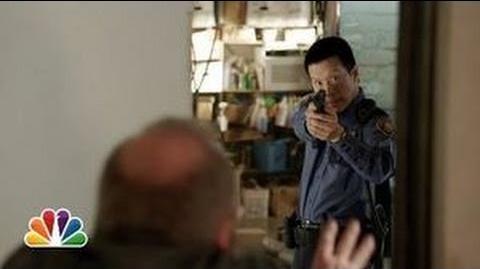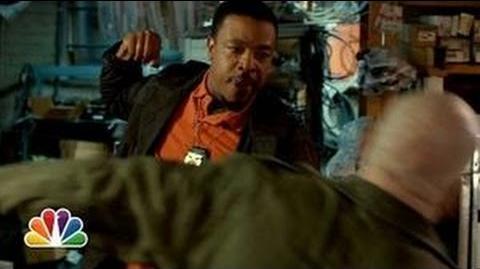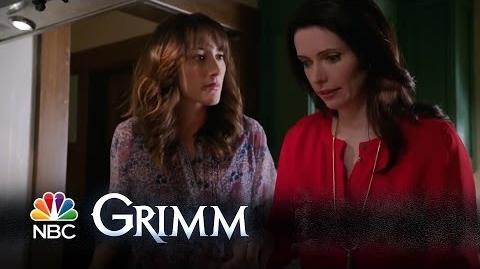 DVD/Blu-ray releases
Complete Season DVD and Blu-ray Cover Art
DVD
Blu-ray
Images
Episode Promo Images