Home
Talk

79
936pages on
this wiki
"Octopus Head" is the second episode of season 4 and the sixty-eighth episode overall of Grimm.
Air date: October 31, 2014


As Nick and Hank turn their attention to a string of attacks where victims are left without their memories, Nick weighs whether or not he should regain his Grimm abilities. Trubel joins the investigation and puts herself in harms way. ‎In Vienna, Adalind is being held captive and learns that she is more connected than ever to Nick. Meanwhile, Captain Renard continues to fight for his life as a mysterious visitor arrives to help him.

READ MORE

"Last Fight" is the third episode of season 4 and the sixty-ninth episode overall of Grimm.
Air date: November 7, 2014


After Nick has a bizarre, unsettling vision, he and Hank find themselves on a case that takes them into the world of boxing. Trubel finds herself under the watchful eye of Agent Chavez before jumping into the ring to help with Nick's investigation. Meanwhile, Monroe and Rosalee get some unexpected help in figuring out a way to restore Nick's Grimm abilities. Elsewhere, Adalind encounters a mysterious visitor in her dungeon cell.

READ MORE
About Grimm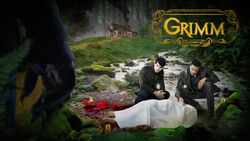 NBC's Grimm, set in contemporary Portland, Oregon, is the story of Nick Burkhardt. Burkhardt is a homicide detective who one day sees a beautiful woman transform into a hag. That evening Nick's Aunt Marie Kessler arrives and tells him that he is one of the last Grimms, a long line of hunters whose purpose is to manage a group of dangerous supernatural creatures known as Wesen.
What was the best cliffhanger from the season 3 finale?
For other polls, see Previous Polls.
Have a suggestion for a future poll? Post your idea here and your idea may be used!

"Last Fight" will air in...
November 7 2014 21:00:00 EDT "Last Fight" will air on November 7th, 2014 at 9pm EDT.