About Grimm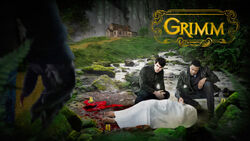 NBC's Grimm, set in contemporary Portland, Oregon, is the story of Nick Burkhardt. Burkhardt is a homicide detective who one day sees a beautiful woman transform into a hag. That evening, Nick's Aunt Marie Kessler arrives and tells him that he is one of the last Grimms, a long line of hunters whose purpose is to manage a group of dangerous, supernatural creatures known as Wesen.

What was your favorite scene/moment from the two part season 5 finale?
For other polls, see Previous Polls.
Have a suggestion for a future poll? Post your idea here and your idea may be used!

"Fugitive" will air in...
January 6 2017 20:00:00 EST "Fugitive" will air on January 6th, 2017 at 8pm EST.

The superfan's guide to Grimm - created by fans, for fans. Wikia apps are always up-to-date with highly accurate, real-time information from Wikia's vast fan community. The Grimm app features over a thousand pages of content created by fans just like you. Find in-depth articles on Grimms, Wesen, episodes, webisodes, seasons, and characters, as well as Grimm comics, novels, and much more.


DOWNLOAD THE APP FOR FREE
Create blog post
Blogs
I need help to find actresses who looks like Danielle Panabaker, but teenager actresses. I need that for Kelly's series that Ariel Eberhart have daughter who looks like her. Please, write ideas in co…

Read more >

Hey guys, I have many thoughts to making Wesen Superheroes, we know that Grimms can protect humans, but Wesen. Grimms would be certainly superheroes, but Wesens would be amazingly. I have my thoughts…

Read more >

The Rogue Wesen Gallery for Apollo/Kelly and his gang.

1) Hrimthurs-Schneetmacher, similar villain-Captain Cold.

2) Salamander-Excandesco, similar villain-Heat Wave.

3) Sylph-Tourbillon (French:"Whirlwi…

Read more >
See more >