Home
Talk

79
1,006pages on
this wiki
"Highway of Tears" is the sixth episode of season 4 and the seventy-second episode overall of Grimm.
Air date: November 28, 2014


The justification for Nick to become a Grimm again is made much clearer in the wake of the most recent attack against Monroe and Rosalee. At work, Nick and Hank are called to a stretch of highway that acts as a staging area for a horrifying Wesen ritual. In Vienna, Viktor meets with a completely broken Adalind, now ready to be of assistance in finding and retrieving the baby. Meanwhile, Trubel is surprised by the sudden arrival of an old friend.

READ MORE

"The Grimm Who Stole Christmas" is the seventh episode of season 4 and the seventy-third episode overall of Grimm.
Air date: December 5, 2014


Nick and Hank are called to investigate a bizarre string of home invasions that lead to an even stranger Wesen phenomena. Monroe has a very special Christmas surprise in store for Rosalee. Meanwhile, Trubel comes to a life changing realization that will affect everyone.

READ MORE
About Grimm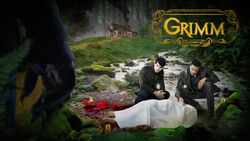 NBC's Grimm, set in contemporary Portland, Oregon, is the story of Nick Burkhardt. Burkhardt is a homicide detective who one day sees a beautiful woman transform into a hag. That evening Nick's Aunt Marie Kessler arrives and tells him that he is one of the last Grimms, a long line of hunters whose purpose is to manage a group of dangerous supernatural creatures known as Wesen.
Should Nick regain his Grimm powers if he has a choice?
For other polls, see Previous Polls.
Have a suggestion for a future poll? Post your idea here and your idea may be used!