Home
Talk

51
623pages on
this wiki
Grimm Renewed For Season 3
About Grimm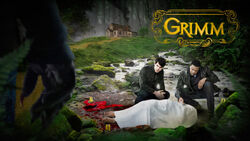 NBC's Grimm, set in contemporary Portland, Oregon, is the story of Nick Burkhardt. Burkhardt is a homicide detective who one day sees a beautiful woman transform into a hag. That evening Nick's Aunt Marie Kessler arrives and tells him that he is one of the last of the Grimms, a long line of hunters whose goal is to stop the spread in the world of dangerous supernatural creatures known as Wesen. Nick's partner, Hank Griffin, is initially unaware of what Nick sees, but Nick tells him after Hank sees a morphed Wesen revert as he dies. Nick's girlfriend, Juliette Silverton is also in the dark; Nick tries to tell her right before she becomes comatose from a magic drug. At the police station, Sergeant Wu is also oblivious to Nick's enhanced abilities, but Nick's supervisor, Captain Sean Renard stands with one foot in the Human world and one in the Wesen and, while not completely happy with what Nick can do, is for the time being keeping a secret society of Grimm hunters known as the Reapers at bay. Renard also kisses the comatose Juliette to awaken her and she becomes attracted to him. Nick makes friends with a reformed Blutbad named Monroe, who guides him through the supernatural world. In time, Nick and Monroe meet a non-violent Fuchsbau named Rosalee Calvert who operates a spice shop catering to Wesen; she too helps in the campaign against Wesen who are violent. As more Wesen become aware of Nick, he tries to tell Juliette about what he is, but she is driven into a trance when attacked by a Hexenbiest; when she is awakened by a kiss, she remembers everything about her life except Nick. When things seem darkest, Nick's mother (Kelly Burkhardt), long believed to have been murdered, returns both to help and to retrieve something.
Latest Poll
What was your favorite season 2 episode?
For other polls, see Previous Polls.
Helping Out
We currently have 623 articles, and 2,414 files. We need YOUR help expanding and adding articles to the wiki!
If you're new to Wikia, please use the above links to get started.
If you already have editing experience, and you have an article relating to Grimm to contribute, use the box below to create it:
User Blogs
Create blog post
That's right, NBCUniversal, we did know they were coming! After all, how else would you retain viewers over so many months?

Just so we don't forget, her…

Read more >

I'm writing a new story, using a wesen created by That1guy99, called the Alma-Ausente, which means 'soul absent' in Portugese.




Part I

As Janice Garvey,…


Read more >

Howdy all,




Let's get down to business. The "little spoilers" from Bree Turner and Bitsie Tulloch say someone, a major character, is going to die or "g…


Read more >
See more >