Home
Talk

82
1,108pages on
this wiki
GRIMM HAS BEEN RENEWED FOR A 5TH SEASON!
"Double Date" is the fifteenth episode of season 4 and the eighty-first episode overall of Grimm.
Air date: March 27, 2015


Nick and Hank are called to investigate a one night stand turned deadly when a man finds himself in the middle of a very bizarre love triangle. Captain Renard hopes Monroe and Rosalee can help him deal with recurring episodes of phantom bleeding. Meanwhile, Adalind makes a discovery that might turn the tables in her favor and Juliette makes a big decision that could change the course of her relationship with Nick.

READ MORE

"Heartbreaker" is the sixteenth episode of season 4 and the eighty-second episode overall of Grimm.
Air date: April 3, 2015


A cyclist's homicide introduces Nick and Hank to a Wesen with a tragic fatal touch. Captain Renard and Adalind learn the Royals have stepped up their efforts to find their child, and another member of the Royal family is introduced. Meanwhile, Juliette ponders the idea of embracing what she's become as opposed to fighting it.

READ MORE
About Grimm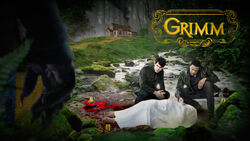 NBC's Grimm, set in contemporary Portland, Oregon, is the story of Nick Burkhardt. Burkhardt is a homicide detective who one day sees a beautiful woman transform into a hag. That evening Nick's Aunt Marie Kessler arrives and tells him that he is one of the last Grimms, a long line of hunters whose purpose is to manage a group of dangerous supernatural creatures known as Wesen.
Are you happy that Wu knows the truth about Grimms/Wesen?
For other polls, see Previous Polls.
Have a suggestion for a future poll? Post your idea here and your idea may be used!