About Grimm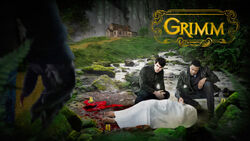 NBC's Grimm, set in contemporary Portland, Oregon, is the story of Nick Burkhardt. Burkhardt is a homicide detective who one day sees a beautiful woman transform into a hag. That evening, Nick's Aunt Marie Kessler arrives and tells him that he is one of the last Grimms, a long line of hunters whose purpose is to manage a group of dangerous, supernatural creatures known as Wesen.

What do you think Adalind and Nick's baby, Kelly, will be?
For other polls, see Previous Polls.
Have a suggestion for a future poll? Post your idea here and your idea may be used!

The superfan's guide to Grimm - created by fans, for fans. Wikia apps are always up-to-date with highly accurate, real-time information from Wikia's vast fan community. The Grimm app features over a thousand pages of content created by fans just like you. Find in-depth articles on Grimms, Wesen, episodes, webisodes, seasons, and characters, as well as Grimm comics, novels, and much more.


DOWNLOAD THE APP FOR FREE
Create blog post
Blogs
Been reading alot of posts that refer to the stick Nick and Monroe recovered in Germany is part of the shaft of the Spear of Destiny or a branch from the Tree of Life. while certainly both ideas are …

Read more >

Hey guys, I decided to make a blog post about my theories for a Grimm video game. I know there's already one, Dark Legacy, but I had a few ideas I wanted to suggest. For those of you who have played …

Read more >




* * * * * *

Thank YOU, Norberto Barba. For those who did not know, Norberto Barba disclosed on Twitter (April 7, 2016) that he will not be back next season on Grimm, but really thinking about it a bit,…

Read more >
See more >