Ad blocker interference detected!
Wikia is a free-to-use site that makes money from advertising. We have a modified experience for viewers using ad blockers

Wikia is not accessible if you've made further modifications. Remove the custom ad blocker rule(s) and the page will load as expected.

About Grimm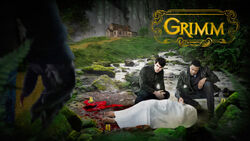 NBC's Grimm, set in contemporary Portland, Oregon, is the story of Nick Burkhardt. Burkhardt is a homicide detective who one day sees a beautiful woman transform into a hag. That evening, Nick's Aunt Marie Kessler arrives and tells him that he is one of the last Grimms, a long line of hunters whose purpose is to manage a group of dangerous, supernatural creatures known as Wesen.

What was your favorite scene/moment from the two part season 5 finale?
For other polls, see Previous Polls.
Have a suggestion for a future poll? Post your idea here and your idea may be used!

"Fugitive" will air in...
January 6 2017 20:00:00 EST "Fugitive" will air on January 6th, 2017 at 8pm EST.

The superfan's guide to Grimm - created by fans, for fans. Wikia apps are always up-to-date with highly accurate, real-time information from Wikia's vast fan community. The Grimm app features over a thousand pages of content created by fans just like you. Find in-depth articles on Grimms, Wesen, episodes, webisodes, seasons, and characters, as well as Grimm comics, novels, and much more.


DOWNLOAD THE APP FOR FREE
Create blog post
Blogs
Dunklerkrieger (German: dark warrior) is Orc like wesen. they thought to be enemies of Daemonfeuers, all of centuries. most famous feud in history was Hundred Years' War (France vs England), it was un…

Read more >

I need help to find actresses who looks like Danielle Panabaker, but teenager actresses. I need that for Kelly's series that Ariel Eberhart have daughter who looks like her. Please, write ideas in co…

Read more >

Hey guys, I have many thoughts to making Wesen Superheroes, we know that Grimms can protect humans, but Wesen. Grimms would be certainly superheroes, but Wesens would be amazingly. I have my thoughts…

Read more >
See more >