Home
Talk

58
687pages on
this wiki
| | | | | |
| --- | --- | --- | --- | --- |
| Grimm | Human | Wesen | Half-Wesen | Former Wesen |
About Grimm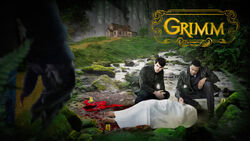 NBC's Grimm, set in contemporary Portland, Oregon, is the story of Nick Burkhardt. Burkhardt is a homicide detective who one day sees a beautiful woman transform into a hag. That evening Nick's Aunt Marie Kessler arrives and tells him that he is one of the last Grimms, a long line of hunters whose purpose is to manage a group of dangerous supernatural creatures known as Wesen. Nick's partner, Hank Griffin, is initially unaware of what Nick sees, but Nick tells him after Hank sees a morphed Wesen revert as he dies. Nick's girlfriend, Juliette Silverton is also in the dark; Nick tries to tell her right before she becomes comatose from a magic drug. At the police station, only Nick's supervisor, Captain Sean Renard, who stands with one foot in the Human world and one in the Wesen one, is aware of Nick's abilities, and, while not completely happy with what Nick is doing, he is for the time being keeping a secret society of Grimm hunters known as the Reapers at bay whilst preventing the Royals from taking possession of an ancient key given to Nick by his aunt. Nick makes friends with a reformed Blutbad named Monroe, who guides him through the supernatural world. In time, Nick and Monroe meet a non-violent Fuchsbau named Rosalee Calvert who operates a spice shop and apothecary catering to Wesen; she too helps in the campaign against Wesen who are violent. Captain Renard wakes Juliette from the magically induced coma, but they become dangerously obsessed with each other. Juliette also completely forgets Nick. Rosalee's apothecary skills are utilized to cure her, and once she is cured she learns about the Wesen world. The Royals decide to kidnap Nick by getting a Cracher-Mortel to spit his toxin on Nick, without realizing that the effect is different on a Grimm...
Latest Poll
Have you read any of the Grimm Comics?
For other polls, see Previous Polls.
Have a suggestion for a future poll? Let one of the admins know on their message wall and your idea may be used!
Helping Out
We currently have 687 articles, and 2,764 files. We need YOUR help expanding and adding articles to the wiki!
If you're new to Wikia, please use the above links to get started.
If you already have editing experience, and you have an article relating to Grimm to contribute, use the box below to create it: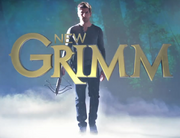 "Cold Blooded"
Airdate: December 13, 2013

As a deadly crime spree begins to surface, a century-old urban legend takes shape in Portland's sewers and becomes Nick's latest case. In Europe, Adalind meets Prince Viktor, who's come to bring those responsible for his cousin Eric's demise to justice. Meanwhile, Captain Renard responds to the recent attempt on his life.

READ MORE


"Twelve Days of Krampus"
Airdate: December 13, 2013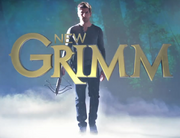 After a string of delinquent teens go missing, an old Wesen tale of an evil Santa who brings more than just a lump of coal may be the prime suspect. The investigation intensifies as Nick and Hank take things a little too far. Meanwhile, Monroe enlists Juliette to surprise Rosalee for their first Christmas together with unintended results. Elsewhere, Captain Renard's tour of Europe brings him closer to tracking down Adalind.

READ MORE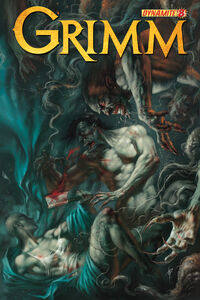 Issue 8 will be released in...
December 18 2013 Issue 8 will be released on December 18th, 2013.