Home
Talk

82
1,136pages on
this wiki
GRIMM HAS BEEN RENEWED FOR A 5TH SEASON!
"Iron Hans" is the nineteenth episode of season 4 and the eighty-fifth episode overall of Grimm.
Air date: April 24, 2015


Nick and Hank are brought in to investigate a homicide they learn is connected to an age-old Wesen rite of passage. Meanwhile, Juliette makes a surprising new ally. Elsewhere, Captain Renard continues to battle a darkness within, and Nick finds hope for Juliette in the last person he expected - Adalind.

READ MORE

"You Don't Know Jack" is the twentieth episode of season 4 and the eighty-sixth episode overall of Grimm.
Air date: May 1, 2015


A string of homicides have the press asking Captain Renard if a Jack the Ripper copycat has arrived in Portland. While dealing with the investigation, Nick, Hank, Monroe and Wu deal with a situation they never expected. Meanwhile, Adalind and Rosalee must work together on a last ditch attempt to fix Juliette's condition. Elsewhere, Juliette decides to help her new ally even if it means hurting those around her.

READ MORE
About Grimm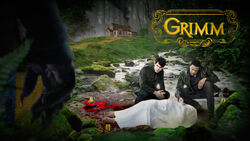 NBC's Grimm, set in contemporary Portland, Oregon, is the story of Nick Burkhardt. Burkhardt is a homicide detective who one day sees a beautiful woman transform into a hag. That evening Nick's Aunt Marie Kessler arrives and tells him that he is one of the last Grimms, a long line of hunters whose purpose is to manage a group of dangerous supernatural creatures known as Wesen.
Are you happy that Wu knows the truth about Grimms/Wesen?
For other polls, see Previous Polls.
Have a suggestion for a future poll? Post your idea here and your idea may be used!