Loading RSS data...
About Grimm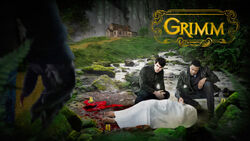 NBC's Grimm, set in contemporary Portland, Oregon, is the story of Nick Burkhardt. Burkhardt is a homicide detective who one day sees a beautiful woman transform into a hag. That evening, Nick's Aunt Marie Kessler arrives and tells him that he is one of the last Grimms, a long line of hunters whose purpose is to manage a group of dangerous, supernatural creatures known as Wesen.
Latest Poll
About which character do you want to know more?
For other polls, see Previous Polls.
Helping Out
We currently have 1,495 articles, and 7,557 files. We need YOUR help expanding and adding articles to the wiki!
If you're new to Wikia, please use the above links to get started.
If you already have editing experience, and you have an article relating to Grimm to contribute, use the box below to create it:
File:Wikia Timetoplay RRBadge-292x90.png
Template:Next Template:Previously
User Blogs
Create blog post



* * * * * *

Thank YOU, Norberto Barba. For those who did not know, Norberto Barba disclosed on Twitter (April 7, 2016) that he will not be back next s…

Read more >

hello! i like wesens and i like grimm. because that i make something like grimm diary. and my works are in that link https://vk.com/album-114632012_2…

Read more >

I hope this hasn't been made into a blog yet, but I'd like to share what I think might go down in Grimm Season 5 based on what I've seen of the first…

Read more >
See more >