Unnamed Yoda-like Wesen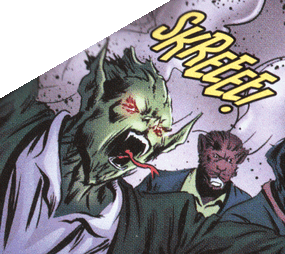 A Wesen resembling Yoda is featured in Issue 12. It is one of a small squad of Wesen who worked together to ruin Silvio Jenkins' world domination scheme.
This Wesen develops green skin with large, pointed ears. Its tongue becomes long and forked. The nose becomes very small and the upper lip becomes cleft. Large fangs develop on both the top and bottom of its jaws.
Ad blocker interference detected!
Wikia is a free-to-use site that makes money from advertising. We have a modified experience for viewers using ad blockers

Wikia is not accessible if you've made further modifications. Remove the custom ad blocker rule(s) and the page will load as expected.